Mobile Swiss Expo Geneva: Clio on iPad apps for companies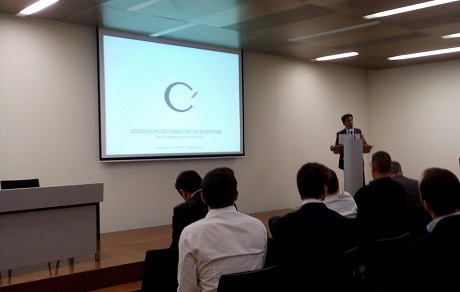 Last week, I had the chance to be invited to the Mobile Swiss Expo at Palexpo Geneva. Among other conferences gathering local IT companies, I listened to Clio (a Geneva-based company developing softwares and applications)'s Head of Mobile Solutions, Yohann Pelé, present their learnings about iPad applications for companies. A presentation of their products, cDocs and cForm, was a good opportunity to learn more about clients' needs, expectations and history with mobile business solutions. The conference was mostly about document sharing and interactive processes, which I have also found a recurrent request from clients.
Expressed needs
Why a company needs a mobile application to work, and what they ask for
Access documents while mobile
Keep existing access rights and architecture
Allow users to edit and share documents, including their comments
Work offline (eg. while travelling on a plane)
Collaborative work on documents
Data security
Manage security issues like stolen or lost devices
Clio's answer: cDocs and cForm
cDocs application allows users to access documents hosted and managed on a different platform (likre Sharepoint), and keeps the exact same architecture of files and access rights as on desktop software. It also offers added-value and iPad specific interactions. I am not sure I 100% agree with the flip-board function, but I can see how this can be reassuring for a user.
cForm makes processes much easier and interactive, by programming them as workflowson a mobile application. Of course this has multiple benefits for the company: entering the data is easier and quicker, an intelligent system can display just the right fields at the right moment, errors are avoided, and a lot of time is saved, etc. They propose and customize this product for a lot of clients, including banks and insurance companies, as electronic signature has become legal (in Switzerland it has a "valeur probante".)
Conclusion: to keep in mind
Going mobile is a big trend for companies nowadays, and replacing their old paper workflows not only saves trees, but it also saves time and money, helps employees in their everyday tasks, assists them, avoids errors and make the whole processes quicker and easier.
Offering a consistent experience no matter the device (desktop or mobile) is important and essential to user adoption. Though, each device's specificities should also be used at their best, to better the user's experience and help him / her intelligently.
As Clio seems to be doing, proposing existing and solid products that can then be customized according to client's needs is intelligent: best practices don't always fit all contexts and businesses. Developing companies' tools on mobile thus require UX work, and very good requirements gathering, to ensure added-value and user adoption.
There were a lot of interesting conferences at Palexpo this day, but unfortunately I was only able to attend this one. I have been working a lot on mobile business applications lately, and it is clearly a growing request. Mobile devices often come with native solutions, and a lot of resources are available on the stores. Though, the need for custom is even emphasized compared to desktop: need for a consistent experience and tools, less bandwidth and screen space constraints, specific needs for business requirements, etc. I like Clio's approach, who have a UX in-house to custom-design for each client.
Note: a few days after the conference, I received a very nice email from Clio, thanking me for my attention, and inviting me to contact them for any further question. Excellent management of prospects relationship! This is rare enough and was very well-done, so it was worth highlighting. Thank you!