Warning
: Undefined variable $postid in
/home/clients/71f511ff1786a555b5336d0ecb7145e4/sites/mariekuter.com/wp-content/themes/mk2018/elements/element-breadcrumb.php
on line
10
Trying on clothes online: Camaieu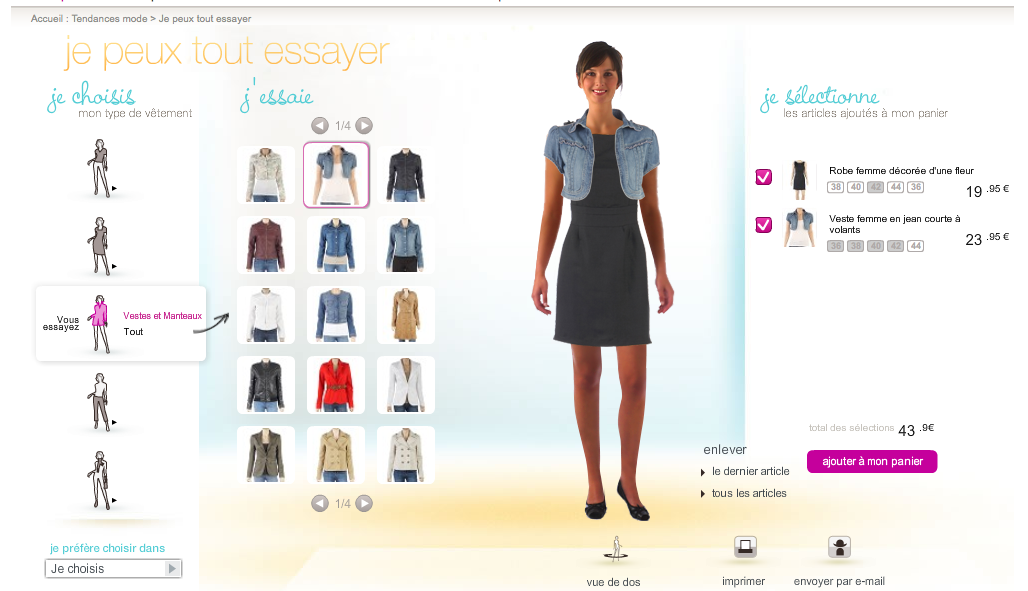 Buying clothes online can sometimes be a hassle: how to know if this rock fits with this shirt? What is the length of this dress, will it fit me? Well, well, the ultimate solution is of course to get to the shop and try them on. But we're in the 21st century, after all: wouldn't there be a solution for our online shopping? Summer is the wedding time, and, how they said in this Indian ad on TV, I am not (at all) ready for it. So I started browsing online clothing shops for a dress. And I was happy to find one of these trying-on-clothes application on Camaieu website. The application is very simple, and accessible for every item in the catalog. Quite impressive: you can actually try every combination possible. Even what does not fit together, just for fun.
What I like about this application:
Very simple to use
Can be used for each and every product of the catalog
No need to set up a character
No need to sign up or give any information: all free
Unlimited possibilites
Standard model
Front and back view
What I would change:
Make the link more visible
Suggest fitting clothes
I did spend the last hour on this application, for finally buying a dress of a different brand in another shop (where I could actually try it on). But well, la dona e mobile, right girls? For me, it wasn't a trigger for conversion because I was looking for a match with a specific clothe I already had, and the application showed me there was none in this catalog. In this it was useful. And it did improve the idea I had about the brand: I know have the feeling they have helped me in my shopping. Of course, Internet is not everything, but I will be confident when entering a Camaieu shop next time.