10 UX actionable insights about luxury shoppers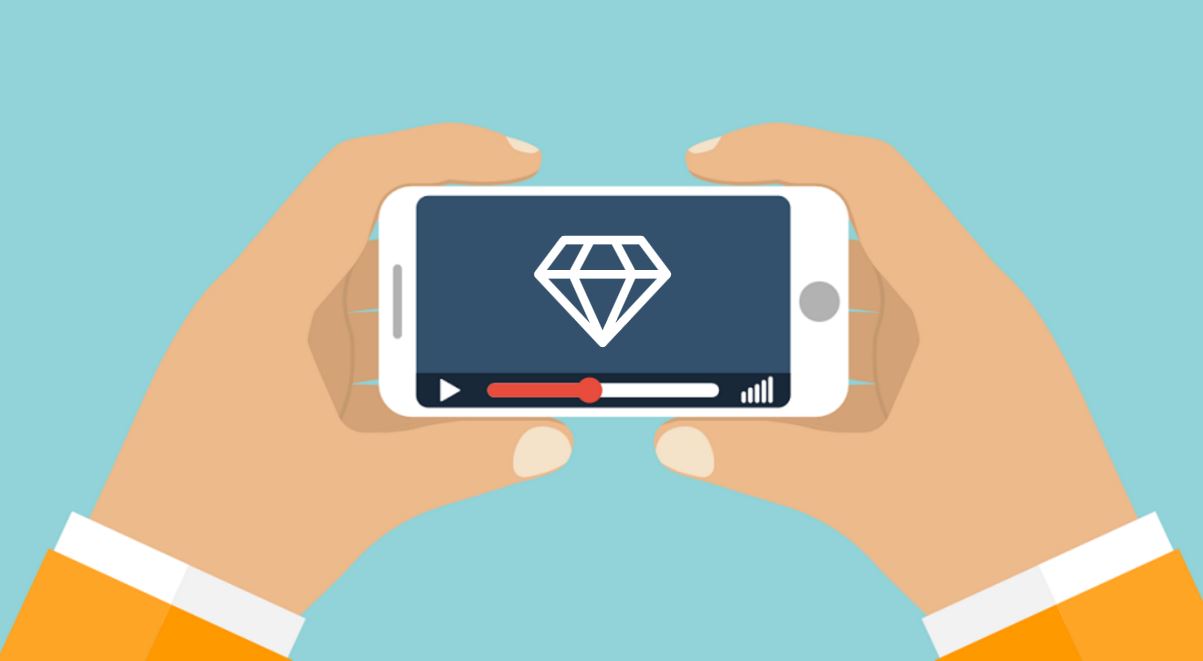 A recent study conducted by Google and Ipsos in June 2016 focuses on the usage of Internet for luxury shoppers in France, Japan, Italy and in the UK. This study highlights the importance of Internet in the shopping process for luxury products, during the research phase as well as later. Here is a summary of the main actionable conclusions in a user experience point of view, and how we can use them to improve the UX on luxury e-commerce and brands websites, including work on pictures, videos, real-time conversation online, etc.
1. 49% look at online images before buying a luxury item.
Either on the brands website or on Google Images, luxury shoppers like to study products from every angle. They start with the brand website, and extend their search to other sites and search engines. Proposing several product views on a luxury product page is absolutely necessary, and the naming and tagging of the visual content needs to be well done, so the brand pictures will appear in the search engines images results. To do so, the name and alt tags have to be informative.
2. 22% watch a video before buying a luxury item.
But images only are not sufficient: luxury buyers expect more, and like to view videos about their favorite pieces. For product and brand information, ads or tutorials, 49% of them watch videos on Youtube. It is a good idea to make a product page richer with videos, and share them on the brand Youtube channel.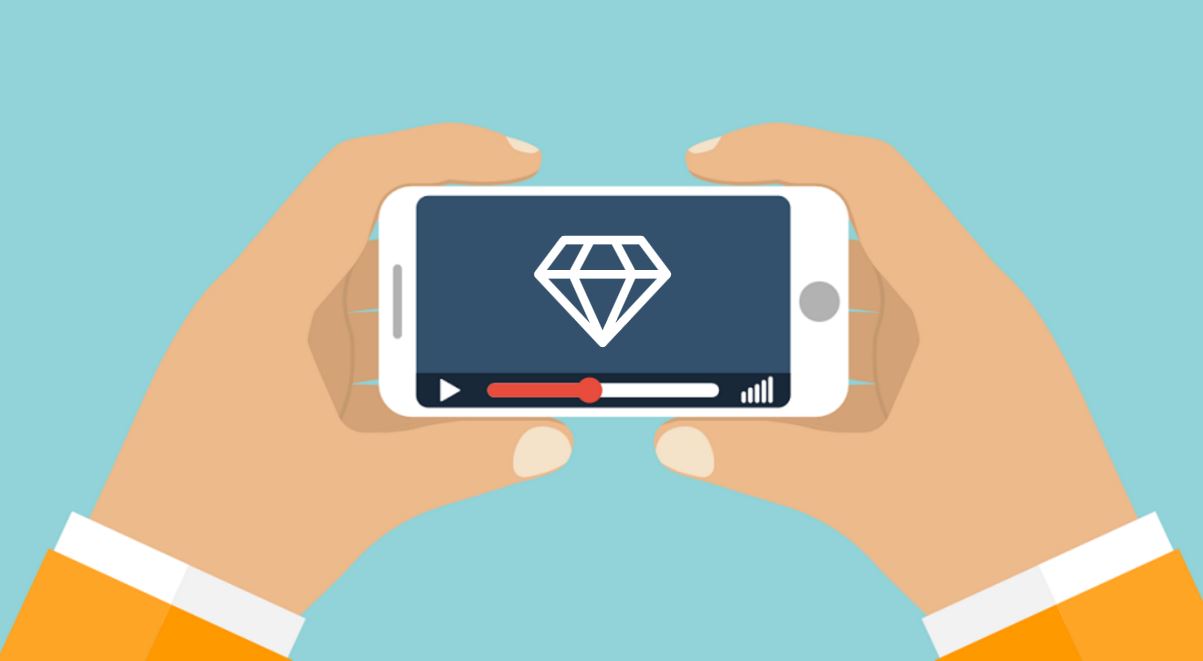 3. 49% use their smartphone in the process.
Luxury websites have to offer a mobile-friendly version of their website. Whether a responsive or a dedicated site, it has to be adapted to a mobile resolution and to a 3-4G bandwidth. Don't forget content should also be adapted to mobility, and highlight store locations, product availability, information and prices.
4. 33% luxury shoppers use their smartphone in stores.
In order to compare prices, view more product images, read reviews and check product availability, luxury shoppers continue referring to their smartphone even in stores. Proposing a free wifi connection inside stores could be a great option to allow them to do so. And why not display a QR code leading to the product page on the brand website close to the product itself?
5. 11% purchase in stores for the experience.
Especially if it is e-commerce, a website has to comply to best practices and common standards. Luxury shoppers still miss online the luxury experience they value in stores. This is both a content and a service matter. There is a lot of effort to do to propose a rich experience on a brand website, and at the same time try to reach the level of service proposed in luxury boutiques. A 360° view of customers is a first step for an integrated view of online and offline clients.
6. 16% purchase in stores for the contact.
Having an e-commerce website does not mean leaving the salespeople aside: instead, there should be new ways for them to assist clients. There is no one-fits-all solution to this, but each brand has to work on a sales strategy where a website complements the salespersons. Good UX examples can include displaying a real person (name, email address and phone) dedicated regionally to the website, a web call-back available to assist during or relay purchase, etc.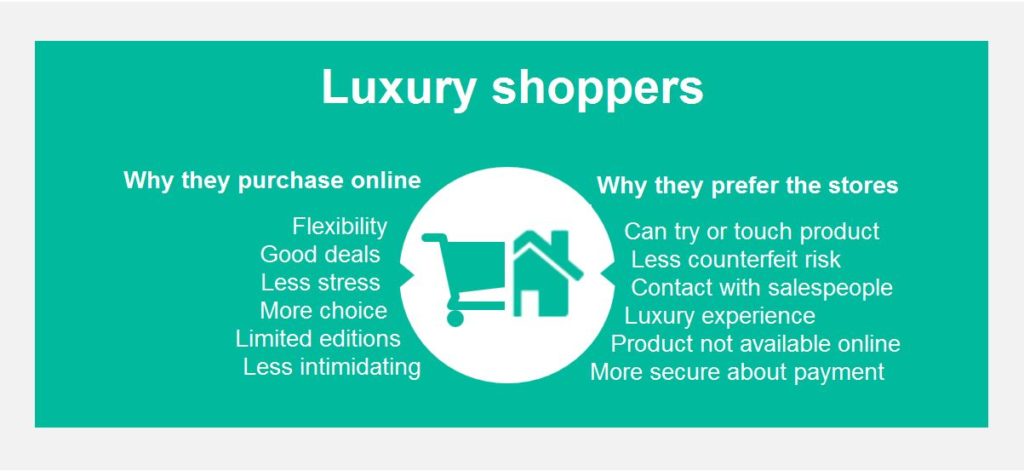 7. 29% buy online because there is more choice, and 14% for limited editions.
In the same way a brand needs to gather off and online activities from its clients, the stock management would be more efficient if it could take into account all boutiques and regions. This way, if a client in a store can't find the product he/she is looking for, the store manager can quickly find the piece in a closeby boutique or stock, and arrange for a solution.
8. 36% interact with the brand after purchase.
The objective of an e-commerce is the sale, indeed. But it does not stop on the confirmation page. Luxury shoppers expect more, and sending an email including product information, tutorials, matching bracelets, etc. can answer this expectation.
9. They expect personalisation.
To make online clients as unique as they feel in a store, the brand website should propose them as much custom content as possible. Why not customize the newsletters according to the gender or product interest, also using the whishlist for suggested and highlighted products? The brand could also propose a selection for clients with narrow wrists, or according to visitor's size and silhouette, or even taking into account previous purchases.
10. They expect real-time.
A luxury brand website should offer real-time interactions to compensate for the human contact a visitor would expect in a boutique, for example with live chats, web call-back, etc.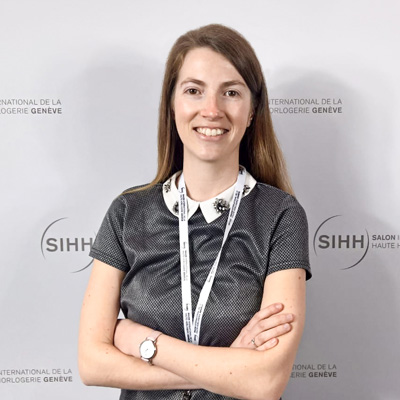 Where is your brand regarding e-commerce?
Contact me
to improve or start a shopping experience on your website