A study of luxury newsletters for Christmas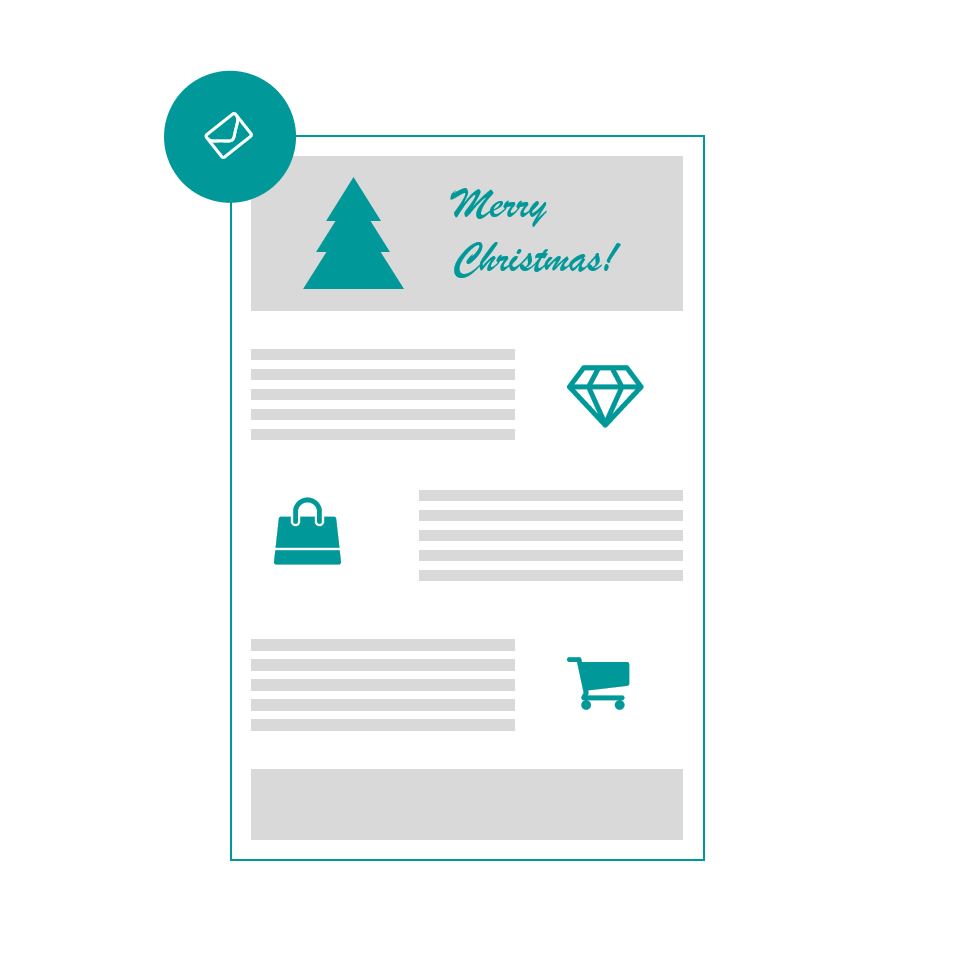 Internet users start searching for Christmas gifts as soon as the end of October, but related searches increase right before Christmas, with a major peak between the 25th November and the 23rd December. This evolution can especially be monitored via Google trends, for searches like "gifts", "gift for her" and "gift for him". Among other touch-points between luxury brands and their Christmas shoppers, I decided to study luxury newsletters and the role they could play in the holiday season shopping journey.
A previous study based on Google Insights highlighted that Internet users search more and more for tailored terms, like "gifts for…" And these searches in the shopping domain have 2 peaks during the year: before Valentine's Day and before Christmas, showing a major rise in gift shopping as a central preoccupation during these periods.

How did luxury brands use their newsletters to reach their customers at this time and how well did they answer customers' concern to find gift ideas? 
Number of emails
I received 244 newsletters from 21 luxury brands between October and December 2017. The number of newsletters clearly peaked in December, with 102 emails just this month. The number of newsletters per day peaked up to more than 5 on 6 days between the 27th November and the 21st December.
Evolution of gift-finding related subjects
If in October or November luxury newsletters cover various subjects equally, December shows a peak for gift-finding-themed newsletters, with subjects like "Find the right gift" or "The perfect gift for her." Between the 25/11 and the 23/12, I received 105 emails from 21 brands, and 22 of them were related to gift ideas.  Some brands sent up to 11 emails during this one-month period, with an average of 5 emails per brand.
Newsletters with a gift-ideas-related subject are clearly focused between the 04/12 and the 15/12. From the 15/12, emails switch to last-minute shopping subjects, which seems more than relevant in order to answer last-minute shoppers challenges.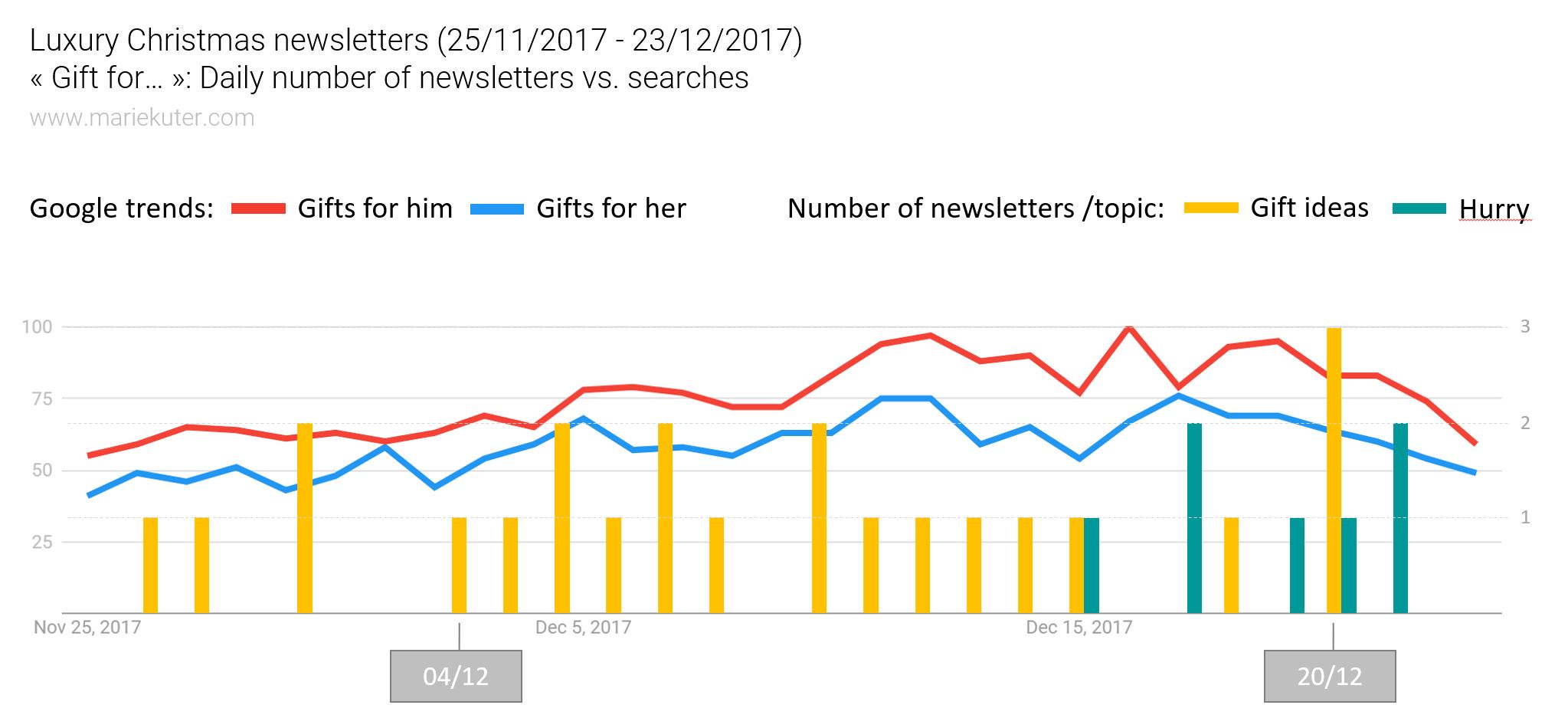 A missed spot between 23/11 and 04/12?
Focusing on gift-finding related subjects, we can see a rather quiet period for emails between the 23/11 and the 04/12. Could this be considered a gap to eventually fill? Before the 04/12, luxury newsletters subjects are more varied, also covering Black Friday, Cyber Monday and other sales operations.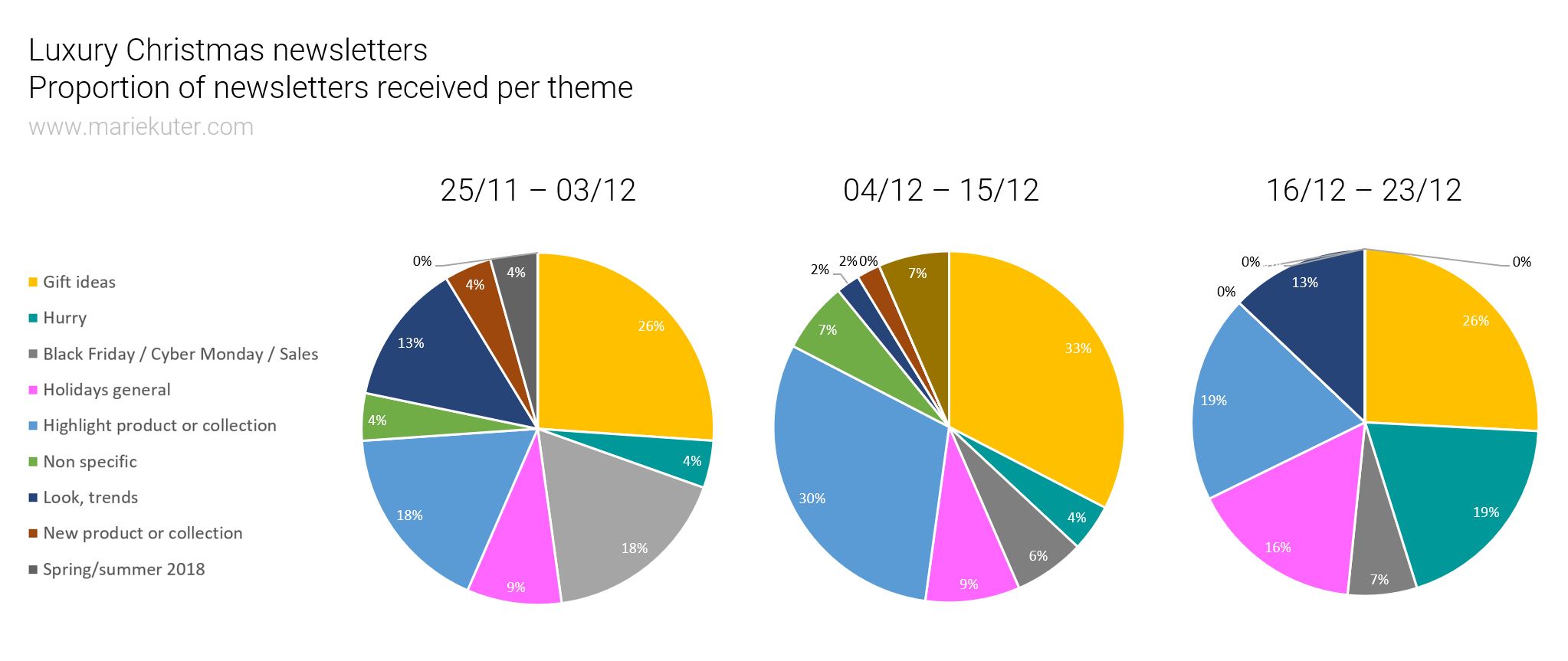 Conclusion
Luxury newsletters clearly adapt to search patterns among Christmas shoppers, and emails subjects efficiently answer those concerns at the right time. Some brands could benefit from switching from general newsletters to a Christmas shopping focus a week sooner, but this could then enter in a competition with Black Friday and Cyber Monday sales, so this would need to be a case-by-case strategic decision.
Now what happens for the other "gift for..." searches peak we noticed before Valentine's Day? Stay tuned for a similar study soon!